RHQ is an enterprise management solution for JBoss middleware projects, Tomcat, Apache Web Server, and numerous other server-side applications.
RHQ provides administration, monitoring, alerting, operational control and configuration in an enterprise setting with fine-grained security and an advanced extension model.
About the Project
Getting Involved
If you wish to get involved as a contributor to RHQ, please visit #rhq channel on Freenode IRC and get to know people.
Developers
Our developers are always looking for the community to get involved. Whether it is ideas for improvement, documentation, contributed plugins or core development. Check the Contributions page on the RHQ wiki
Community
Our user mailing list and our developer mailing list are the main channels of communication between all community members. You can also join the team on IRC (#rhq on irc.freenode.net).
Knowledge
User docs and developer resources can be found on the RHQ wiki.
Project Status
RHQ uses the Red Hat Bugzilla issue tracker to organize and prioritize tasks. Development effort is done in RHQ Project which includes Jopr Project that is specific to JBoss technology management.
RHQ Project | Open Issues | Source code GIT repository
Professional Support
Red Hat delivers the enterprise Support, Consulting, and Training that you need whether you are testing a proof of concept, deploying a mission-critical application, or rolling out JBoss Middleware products across your enterprise. The JBoss Operations Network a fully supported enterprise product for monitoring and managing JBoss middleware products that is based on RHQ.
Quick Links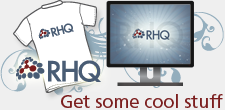 RHQ on Twitter
No tweets available.