RHQ is an enterprise management solution for JBoss middleware projects, Tomcat, Apache Web Server, and numerous other server-side applications.
RHQ provides administration, monitoring, alerting, operational control and configuration in an enterprise setting with fine-grained security and an advanced extension model.
About the Project
Getting Involved
If you wish to get involved as a contributor to RHQ, please visit #rhq channel on Freenode IRC and get to know people.
Developers
Our developers are always looking for the community to get involved. Whether it is ideas for improvement, documentation, contributed plugins or core development. Check the Contributions page on the RHQ wiki
Community
Our user mailing list and our developer mailing list are the main channels of communication between all community members. You can also join the team on IRC (#rhq on irc.freenode.net).
Knowledge
User docs and developer resources can be found on the RHQ wiki.
Project Status
RHQ uses the Red Hat Bugzilla issue tracker to organize and prioritize tasks. Development effort is done in RHQ Project which includes Jopr Project that is specific to JBoss technology management.
RHQ Project | Open Issues | Source code GIT repository
Professional Support
Red Hat delivers the enterprise Support, Consulting, and Training that you need whether you are testing a proof of concept, deploying a mission-critical application, or rolling out JBoss Middleware products across your enterprise. The JBoss Operations Network a fully supported enterprise product for monitoring and managing JBoss middleware products that is based on RHQ.
RHQ
blogs about the RHQ project
Jul 29, 2014 4:35 AM by John Mazz
I'm currently researching and prototyping a new subproject under the RHQ umbrella that will be a subsystem that can perform the emission and storage of audit messages (we're tentatively calling it "rhq-audit").

I decided to start the prototype with ActiveMQ. But one problem I had was I could not find a "starter" project that used ActiveMQ. I was looking for something with basic, skeleton Maven poms and Eclipse project files and some stub code that I could take and begin fleshing out to build a prototype. So I decided to publish my basic prototype to fill that void. If you are looking to start an ActiveMQ project, or just want to play with ActiveMQ and want a simple project to experiment with, then this might be a good starting point for you. This is specifically using ActiveMQ 5.10.

The code is in Github located at https://github.com/jmazzitelli/activemq-start

Once you clone it, you can run "mvn install" to compile everything and run the unit tests. Each maven module has an associated Eclipse project and can be directly imported into Eclipse as-is. If you have the Eclipse M2E plugin, these can be imported using that Eclipse Maven integration.

Here's a quick overview of the Maven modules and a quick description of some of the major parts of the code:



Taking a look at

AuditRecordConsumerTest

shows how this initial prototype can be tested and shows how audit records can be sent and received through an ActiveMQ broker:




1. Create and start the embedded broker:

VMEmbeddedBrokerWrapper broker = new VMEmbeddedBrokerWrapper();
broker.start();
String brokerURL = broker.getBrokerURL();

3. Connect the producer and consumer to the test broker:

producer = new AuditRecordProducer(brokerURL);
consumer = new AuditRecordConsumer(brokerURL);

2. Prepare to listen for audit record messages:

consumer.listen(Subsystem.MISCELLANEOUS, listener);

3. Produce audit record messages:

producer.sendAuditRecord(auditRecord);

At this point, the messages are flowing and the test code will ensure that all the messages were received successfully and had the data expected.

A lot of the code in this prototype is generic enough to provide functionality for most messaging projects; but of course there are rhq-audit specific types such as AuditRecord involved. The idea is to now flesh out this generic prototype to further provide the requirements of the rhq-audit project. More on that will be discussed in the future. But for now, perhaps this could help others come up to speed quickly with an AcitveMQ project without having to start from scratch.
Jul 20, 2014 11:18 AM by John Sanda
There is very limited support for changing the endpoint address of a storage node. In fact the only way to do so is by undeploying and redeploying the node with the new address. And in some cases, like when there is only a single storage node, this is not even an option. BZ 1103841 was opened to address this, and the changes will go into RHQ 4.13.

Changing the endpoint address of a Cassandra node is a routine maintenance operation. I am referring specifically to the address on which Cassandra uses for gossip. This address is specified by the

listen_address

property in cassandra.yaml. The key thing when changing the address is to ensure that the node's token assignments do not change. Rob Coli's post on changing a node's address provides a nice summary of the configuration changes involved.

With CASSANDRA-7356 however, things are even easier. Change the value of

listen_address

and restart Cassandra with the following system properties defined in cassandra-env.sh,



-Dcassandra.replace_address=<new_address>

-Dcassandra.replace_address_first_boot=true

The

seeds

property in cassandra.yaml might need to be updated as well. Note that there is no need to worry about the

auto_bootstrap

,

initial_token

, or

num_tokens

properties.




For the RHQ Storage Node, these system properties will be set in cassandra-jvm.properties. Users will be able to update a node's address either through the storage node admin UI or through the RHQ CLI. One interesting to note is that the RHQ Storage Node resource type uses the node's endpoint address as its resource key. This is not good. When the address changes, the agent will think it has discovered a new Storage Node resource. To prevent this we can add

resource upgrade

support in the rhq-storage plugin, and change the resource key to use the node's host ID which is a UUID that does not change. The host ID is exposed through the

StorageServiceMBean.getLocalHostId

JMX attribute.




If you interested in learning more about the work involved with adding support for changing a storage node's endpoint address, check out the

wiki design doc

that I will be updating over the next several days.
Apr 15, 2014 10:10 AM by John Mazz
My previous blog post talked about work being done on implementing an enhancement request which asked for the ability to remotely install an RHQ Agent. That feature has been finished and checked into the master branch and will be in the next release.

I created a quick 11-minute demo showing the UI (which is slightly differently than what the prototype looked like) and demonstrates the install, start, stop, and uninstall capabilities of this new feature.

I can already think of at least two more enhancements that can be added to this in the future. One would be to support SSH keys rather than passwords (so you don't have to require passwords to make the remote SSH connection) and the other would be to allow the user to upload a custom rhq-agent-env.sh file so that file can be used to override the default agent environment (in other words, it would be used instead of the default rhq-agent-env.sh that comes with the agent distribution).
Sep 12, 2013 9:47 AM by John Mazz
In older versions, the RHQ GUI showed you the availability status of resources but if you were viewing the resource in the GUI, it did not update the icons unless you manually refreshed the screen.

In RHQ 4.9, this has changed. If you are currently viewing a resource and its availability status changes (say, it goes down, or it comes back up), the screen will quickly reflect the new availability status by changing the availabilty icon and by changing the tree node icons.

To see what I mean, take a look at this quick 3-minute demo to see the feature in action (view this in full-screen mode if you want to get a better look at the icons and tree node badges):



Sep 11, 2013 8:59 AM by John Mazz
RHQ allows one to bundle up content and provision that bundle to remote machines managed by RHQ Agents. This is what we call the "Bundle" subsystem, the documentation actually titles it the "Provisioning" subsystem. I've blogged about it here and here if you want to read more about it.

RHQ 4.9 has just been released and with it comes a new feature in the Bundle subsystem. RHQ can now allow your admins to give users fine-grained security constraints around the Bundle subsystem.

In the older RHQ versions, it was an all-or-nothing prospect - a user either could do nothing with respect to bundles or could do everything.

Now, users can be granted certain permissions surrounding bundle functionality. For example, a user could be given the permission to create and delete bundles, but that user could be denied permission to deploy those bundles anywhere. A user could be restriced in such a way to allow him to deploy bundles only to a certain group of resources but not others.

Along with the new permissions, RHQ has now introduced the concept of "bundle groups." Now you can organize your bundles into separate groups, while providing security constraints around those bundles so only a select set of users can access, manipulate, and deploy bundles in certain bundle groups.

If you want all the gory details, you can read the wiki documentation on this new security model for bundles.

I put together a quick, 15-minute demo that illustrates this fine-grained security model. It demonstrates the use of the bundle permissions to implement a typical use-case that demarcates workflows to provision different applications to different environments:



Watch the demo to see how this can be done. The demo will illustrate how the user "HR Developer" will only be allowed to create bundles and put them in the "HR Applications" bundle group and the user "HR Deployer" will only be allowed to deploy those "HR Applications" bundles to the "HR Environment" resource group.

Again, read the wiki for more information. The RHQ 4.9 release notes also has information you'll want to read about this.
View more rhq
Quick Links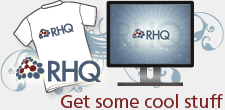 RHQ on Twitter
No tweets available.